Preparing your furry friends for Fall
Fall brings on a change of seasons for most parts of the country and if you're in an area that fall brings on wet, windy rain and colder temperatures here are some suggestions on getting you and your pets ready for the change of season.
Get supplies ready before the colder weather hits. Investing in things like sweaters, rain coats and other wet weather gear is essential for colder and wetter weather.
Sweaters and jackets can provide not only you with with warmth but your pets as well. All dogs are not created equal. Some dog breeds are naturally prepared for colder, wetter weather, but some are not. Just because your pet has a fluffy coat or a thicker fur, it doesn't mean that they are well protected from the cold. Not keeping your pet warm or dry can be harmful to them.  For both dogs and cats, a snuggly bed, blanket and crate cover will help make cooler nights more comfortable.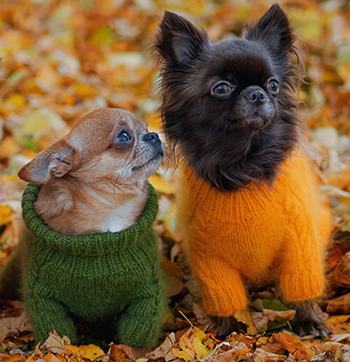 Whether you love or hate the fall, you need to make a plan to ensure that your dog gets enough exercise and stimulation during the fall season. It's common for people become less active during the fall, but that's not fair to your pet. Dogs need daily exercise and socialization. If you're not up for going out in the cold during fall, then think about using a doggy day care facility, or hire a dog walker.
It's a good idea to get your pet groomed before you get too far into fall.  This can help to alleviate some of the discomfort as your pet grows their winter coat and helps keep them from shedding too much.
When the weather gets too wet or snowy, make sure your pet has a comfortable place to go potty.  Maybe clear out a space in your yard and place gravel or beauty bark down as a place they can go in relatively comfort.  If you live in an apartment, scout out your area to see if there are places that are shaded or cleared during the fall by maintenance for them to do their business.
Protect your pets from the problems that come with snow if you live in a place where they use salt or chemicals to keep the sidewalks and streets cleared. Invest in doggy boots, or make sure that you clean their paws before they come inside as this helps to remove dirt, snow, ice, and the salt or chemicals that is used to break up snow on sidewalks and streets.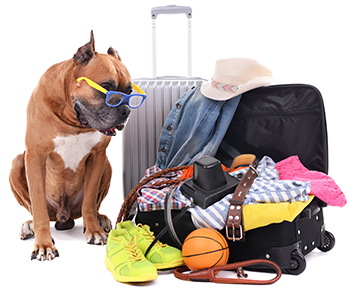 If you plan to be traveling with your pet, pack your pets supplies in advance. Having a well prepared travel pack can ensure that your pet has everything that they need no matter where you end up and no matter the weather. Consider toys, food, treats, blankets, a sweater or two and anything else that will help your pet to feel more comfortable.
If you are going to travel this fall without your pet and are using a pet sitter, or kennel, make sure that you are also prepared with a 'travel pack' for your pet while you're away. Pack their favorite food, toys, their favorite blanket and anything else that will make them more comfortable while they are away. from home.   If you are using a pet sitter in your home, make sure that you have documentation on medications needed, vet information, emergency contacts if you can't be contacted and any other instructions to help make your pet more comfortable while you are away.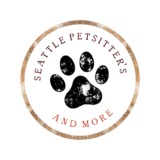 As you prepare your dog for fall, ask yourself what other things you might want to do that are specific to your dog.  Fall can be a special time of the year and with a little preparation on you part, it can also be a special time of the year for your pet.